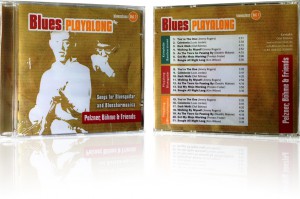 Die Playalong CD wurde besprochen in bluesnews Magazin 12/2012

Blues Playalong für Bluesgitarristen und Bluesharpspieler mit den Songs:
You're The One
Caledonia
Dark Walk
Walking By Myself
As The Years Go Passing By
Got My Mojo Working
Boogie All Night Long
Gitarristen und Bluesharpspielern möchten wir mit dieser Playalong-CD exemplarisch zeigen, wie verschiedenartig Bluesharp und Gitarre innerhalb einer Band funktionieren und wie sie sich gegenseitig ergänzen können. Bei der Stückauswahl haben wir eine stilistische Mischung aus echten Bluesklassikern und traditionellen Bluesstilen angestrebt.
Jeder der 7 Titel auf dieser CD ist in drei Versionen vorhanden:
1. Komplette Bandfassung
2. Playalong für Bluesgitarristen(ohne Gitarre)
3. Playalong für Harpspieler(ohne Bluesharp).